Balgonie Round Abouts Set To Open
With the new Balgonie overpass set to open Monday, weather permitting, traffic patterns will be altered.
The following detailed maps of Balgonie show the new traffic movements for access to Highway 1 eastbound traffic and the new westbound off ramp detour.
As well, be advised that  Eastbound access to Balgonie at Main Street will be closed. All eastbound access to Balgonie will be via the new overpass.
Here are a couple of maps of the new traffic patterns.
DETOUR TO HIGHWAY 1 EASTBOUND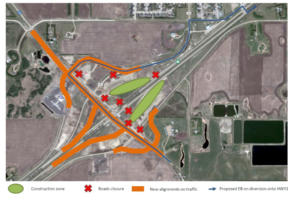 WESTBOUND OFF RAMP DIVERSION