Why A Bypass
The Regina Bypass is needed to improve overall traffic safety and support continued economic growth.
Since the 90's, traffic congestion along Victoria Avenue and Highway 1 East has been a major safety concern. The at grade intersections are not adapted to the growing commuter traffic between Balgonie and Regina.
The bypass project was redesigned based on several studies and public and stakeholder consultations.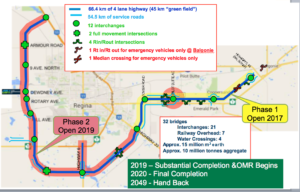 The new overpasses and bypass route will drastically improve traffic safety and efficiency as well as maximize strategic advantage of GTH's location.
Main Objectives of the Bypass Project:
Addresses the growing commuter traffic issue
Improves safety on Highway 1 East and Victoria Avenue
Diverts large truck traffic from Regina
Construction of overpasses at Balgonie, White City, Pilot Butte and Tower Road
Eliminate key transportation bottlenecks while creating an efficient traffic flow on Hwy 1
Provide better access to Regina, the GTH, Hwy 6 and Hwy 11
The new Regina Bypass will include:
12 new overpasses
55 km of new service roads
2 new all movement intersections
2 bridges crossing Wascana Creek
Key Dates
July 29, 2015:  Project begins 
October 31, 2017: Phase 1 Substantial Completion
2018: Pilot Butte overpass completed
October 31, 2019: Phase 2 Substantial Completion
October 31, 2049: Hardback to the ProvinceView Project Schedule for more details.