Bridge construction to delay traffic on Highway 1 near Balgonie beginning Monday night
Mot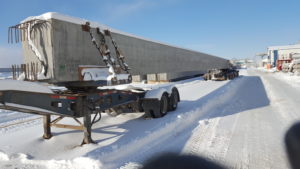 orists can expect brief traffic delays near Balgonie (Highway 1 and Highway 46) starting Monday, Feb. 13,
weather permitting.
Between 8 p.m. and 6 a.m., traffic will be reduced to one lane in both directions to allow for construction on the new Balgonie overpass.
From 10 p.m. to 4 a.m., the westbound lane of Highway 1 near Highway 46 will be closed for 15 minutes approximately every hour as our Regina Bypass team moves girders into place for the overpass. Please expect delays during this time.
Once the westbound girders are in place, the operation will move to the eastbound side of the highway.  The entire process should be completed by Sunday, Feb. 19.
Motorists are reminded to watch for workers and equipment and slow down to the posted speed limit through the work zone.
The patience and understanding of motorists and residents is appreciated as work continues on the Regina Bypass project. When completed, the Regina Bypass will improve safety, reduce traffic congestion and increase efficiency for truckers and shippers.