Girders Added to White City Bridge
The Regina Bypass is the largest transportation project in Saskatchewan history. Once complete, it will allow motorists to safely commute to their destinations on Trans-Canada Highway 1 east of Regina and will reduce congestion in and around the provincial capital.
The construction phase of the project for Regina Bypass will last until 2019 and includes:
12 overpasses;
40 kilometres of new four-lane highway;
20 kilometres of resurfaced four-lane highway;
55 kilometres of new service roads; and
Twinning of approximately five kilometres of

Highway 6.

WHITE CITY OVERPASS GIRDERS

The deck of the White City overpass is supported by concrete girders. The girders are responsible for transferring the load to the foundation of the overpass. It takes approximately one hour for the crane to lift each girder into place.
Number of girders in the White City Overpass – 44
Dimension of each girder – 4 feet x 4 feet x 100 feet
Weight of each girder – 92,000 pounds
Each girder was trucked to Regina from Calgary, AB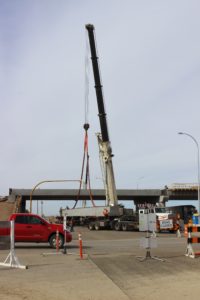 For more information:
Visit: reginabypass.ca
Follow: @reginabypass.ca