Regina Bypass Launches Slow Down Signage Campaign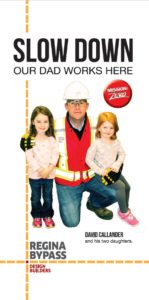 For Immediate Release – June 16, 2016
For the Regina Bypass leadership group, creating a safe working environment for its team members and residents of the communities along the Bypass route is a priority.
The Regina Bypass Slow Down campaign looks to engage drivers to reduce their speed and pay close attention to work zone signs as they travel through construction sites.
The Slow Down campaign highlights near life-sized images of real workers and their families. Regina Bypass project manager David Callander and his daughters are featured on the first Slow Down sign.
"The overall safety of our team is one of the core values we have on this project," said Alisdair Dickinson, Regina Bypass Project Director. "The slow down signs remind drivers that reducing speed is important for the safety of all workers and those travelling through the works zone."
The Saskatchewan Ministry of Highways and Infrastructure places a high importance on safety in work zones. Significant changes have been made to improve safety in work zones in recent years, such as simplified signage, rumble strips and photo enforcement.
"Our top priority is the safety of our construction crews and the travelling public," Highways and Infrastructure Minister Nancy Heppner said. "With this new and innovative use of signs, along with public education and enforcement, we're continually taking steps to improve work zone safety for everyone."
Graham is one of the major Saskatchewan companies endorsing the Slow Down campaign. It is well known in the construction industry for promoting the health and safety of its employees, as well as the protection of the communities it serves.
"At Graham, we believe that all safety-related incidents are preventable," said Mike Donnelly, HS&E Manager, Infrastructure for Graham Management Services. "Graham is committed to the safety of our workforce and the communities we work for."
Dickinson and Donnelly both credit Al Kalnicki, Regina Bypass Lead Construction Project Manager, for being the driving force to enhance driver safety in the project's work zones.
The Saskatchewan Construction Safety Association (SCSA) is also a proud partner in the Slow Down initiative. The program aligns with the SCSA's vision to create an environment that assists the public to gain a greater awareness and understanding of safety issues in the construction industry.
"Our team supports the construction industry by reminding drivers that they need to slow down when entering work zones this summer," said SCSA President Collin Pullar. "Through education and awareness we can prevent many incidents that are caused by someone trying to save a few seconds or being distracted while driving."
The overall goal of the Slow Down program is to ultimately change driver behaviour and make safety while driving through construction work zones a priority for all.
By law in Saskatchewan, traffic must slow to 60 km/hr when passing highway workers or flaggers, within signed work zones or when passing equipment with its amber warning lights on. More information on traffic safety within work zones is available at www.highways.gov.sk.ca/workzone/.
– 30 –
For more information or to schedule an interview please contact
Tony Playter, ABC
Communications Manager
Regina Bypass
306.570.6913