Repaving of Hwy 1 East bound lanes to begin Friday
Regina Bypass would like to advise motorists that the repaving of the Highway 1 – east bound lanes – is targeted to begin Friday morning, weather permitting.
Once this works begins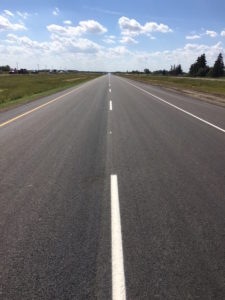 , motorists will now travel to and from Regina on the newly paved west bound lanes. As with previous repaving, crossover lanes will allow traffic to smoothly transition from divided to undivided highway travel.
The intersections of Great Plains Industrial Drive, Highway 48 at White City and Highway 46 at Balgonie will continue to have portable traffic signals to safely accommodate traffic during construction.
For the latest traffic restrictions related to the Regina Bypass project, motorists are reminded to follow Regina Bypass on Twitter @reginabypass and to regularly check the Highway Hotline at http://hotline.gov.sk.ca.
Motorists can expect delays as they make their commute to and from Regina during this repaving event.
We thank all residents for their patience and understanding as we work to improve the safety and transportation system in the area over the long term.
For additional information or questions, visit www.reginabypass.ca or call 1-844-679-4828.