Repaving of Hwy 364 to begin Saturday
Regina Bypass would like to advise resident that the repaving of the Highway 364 is targeted to begin as early as Saturday morning, weather permitting.
D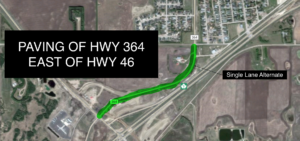 uring the repaving, motorists can expect short delays as flaggers will safely direct the flow of traffic. While one lane is being paved, traffic will be diverted onto the other lane. The repaving work is expected to last until Sunday evening, weather permitting.
This work is part of an overall paving project that began earlier this summer and will last until early fall.
For the latest traffic restrictions related to the Regina Bypass project, motorists are reminded to follow Regina Bypass on Twitter @reginabypass and to regularly check the Highway Hotline at http://hotline.gov.sk.ca.
We thank all residents for their patience and understanding as we work to improve the safety and transportation system in the area over the long term.
For additional information or questions, visit www.reginabypass.ca or call 1-844-679-4828.