Traffic Update for the Week of July 4
Following the long weekend, motorists can expect the following traffic changes.
Highway 1 East Repaving
Regina Bypass is set to begin resurfacing the final six kilometres of the west bound lanes of Highway 1 East between Tower Road and the old Pilot Butte access road. This work is scheduled to begin as early as Tuesday, July 4, weather permitting.
To accommodate the lane change, motorists will now use crossover lanes at Tower Road to smoothly transition from divided to undivided highway travel. Motorists will be directed onto the recently resurfaced east-bound lanes and over the newly constructed Tower Road bridge.
Gravel Pit Road will continue to have portable traffic lights to safely accommodate traffic during construction. To assist with traffic flow during this final resurfacing phase, portable traffic lights will remain at Tower Road.
Highway 1 West Detour 
Regina Bypass will be temporally closing the westbound to northbound ramp from Highway 1 West to Pinkie Road.
All westbound traffic looking to use Pinkie Road will be detoured from Highway 1 West to the South Service Road.  Motorists are asked to follow the detour signage along the South Service Road to safely access Pinkie Road. The South Service Road detour will only be open to one-way traffic heading west.
This detour will be in place, starting as early as Tuesday, July 4,, weather permitting, and last approximately four weeks.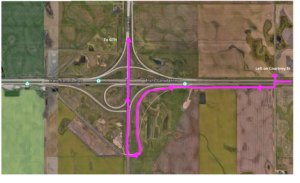 Motorists can expect short delays due to speed reductions as they make their commute to and from Regina.
For more information on the Regina Bypass project, please contact the 24-Hour Call Centre at 1-844-679.4828, visit our website at reginabypass.ca or follow us on Twitter @reginabypass.
-30-