Watch for Trucks Crossing Hwy 1 Near Hwy 48
As part of the ongoing night works near White City, Regina Bypass trucks will now be crossing Hwy 1 near Hwy 48 nightly after 8:30 p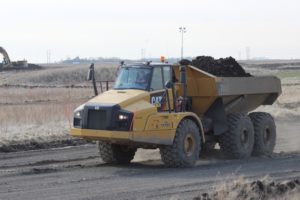 m, weather permitting.
All motorists are asked to please slow down and watch for flaggers in the construction zone.
The earth works near Highway 48 will continue to be ongoing on a 24-hour basis.
This work will involve hauling dirt from one of our borrow pits and the placement of embankment material to facilitate the construction of both sides of the
new White City interchange near Highway 48.
Should residents have any questions, please contact the Bypass Call Centre at 1-844-679-4828.