What is an MSE Wall?
As you are driving through various areas of the Regina ByPass you will see MSE or Mechanically Stabilized Earth retaining walls being created for the new bridges at each interchange. David Callander, Project Manager from the North section of the Bypass provides us with more detailed information about MSE walls.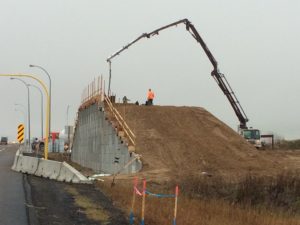 Definition:
MSE Walls are Mechanically Stabilized Earth retaining walls.
General design and application:
Each MSE wall is a coherent gravity structure, custom-engineered to project-speci­fic requirements including foundation conditions and aesthetics. These walls normally include a facing element and soil reinforcing strips embedded in the backfill behind the facing. The facing element can be concrete, panel or segmental block, or steel wire mesh. The reinforcement element can be either metallic (strip, grid, wire mesh) or geosynthetic (geotextile, geogrid). MSE walls are often used to support fills for roadways and bridges and when substantial total and differential settlement are anticipated.
Project specific details:
The Regina Bypass is using MSE walls to retain embankment fills for roadways and at bridge abutments. The MSE walls on the Regina Bypass consist of precast concrete facings and steel soil reinforcing strips embedded in the backfill behind the facing. There will be over 20,000m2 of MSE walls installed on the Regina Bypass project.

Construction:
Construction of a MSE wall begins with delivery of pre-manufactured components – precast panels, reinforcing strips and backfill materials. The existing ground is prepared and a concrete leveling pad is poured. The precast panels are installed in rows and the backfill is placed and compacted with the soil reinforcing strips as each row of panels is installed. This process is repeated until the wall is completed. The concrete coping is then constructed on top of the precast panels as a finishing touch.